Archive for the 'paragliding equipment check' Category
Tandem paragliding is..
The Ultimate free flying experience for Everyone
20.05 – 27.05.2017 Mount Olympus Greece
Tandem Pilot workshop course
with
Herminio Cordido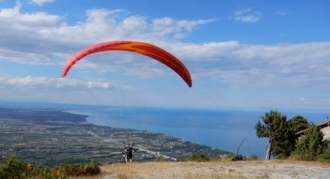 The tandem paragliding course aims to pilots already flying tandem by following this course for them to receive a thorough educational background and further cross reference to upgrade the pilots technique and practices considering the gliders, equipment, conditions and passenger.
Professional tandem pilots carry great responsibility and stress agents that can be successfully managed by locking knowledge and skills to the optimal level.
Facts -Tips & Tricks
Soft or hard spreaders? Trimming your glider before, during, after flight? What is the gliders stall-point? Lets go down?
Questions that every pilot answers independently and acts on instinctively with each flight will be examined and placed in perfect little boxes ready for you to call upon with the utmost certainty that you are doing the right thing!
Acro tandem paragliding everyday flying, simple maneuvers and those stronger will they fascinate your passenger or make his experience unpleasant?
The course will enable you to train your safety reactions and increase confidence in your equipment and your self. You will learn to control your tandem paraglider beyond your "normal" flight envelope and under conditions of maximum safety through the implementation of flight incident scenarios.
about Herminio Cordido:
Herminio Cordido, from our other side of the globe, a pilot since the age of 13 years old, member of the Venezuelan Paragliding National team for 10 years and now a solid member of the ICARO gliders Pilot team.
A born to paraglide pilot that transmits love for flying and passion to evolve!
A trusted pilot for designers, he has the experience of flying with an unlimited number of gliders through all categories not only acro, competition gliders but the newest performance tandem paragliders!
Graceful ground spiral landings with tandem, soft gentle landings and beautiful experiences for his passengers.
All the way from Guadalajara, Mexico and Canada were he professionally offers tandem flights in North Vancouver. He has flying experience in the furthest most remote areas of the planet mastering different flight conditions and terrain variables. Herminio has captured scenes and landscapes of outstanding beauty and his nature led him to cinematography one of his professional pursuits and studies.
Creator of many thrilling paragliding films like Dust Devil for Horacio Llorens and Los Rodriquez for Raul and Felix further the Never Ending Thermal of his own adventure.
Numerous entries and successes in competitions around the world challenging his own paragliding and aerobatics skills and limits.

A factory competition pilot for Ozone, winning first place at the Red Bull Uribante Acro championship in 2004, contesting in Red Bull Vertigo acro championship performing the Misty Tumble from flight one.
An extreme sportsman flying off hot-air balloons, skydiving and his personal record the self induced HALO, Herminio jumping out of his paragliding gear at 6.230 meters to skydive and meet his target.
We are exited to see him in Europe once more, at Mount Olympus in Greece flying with us and sharing his knowledge and experience with us in a refreshing simplistic way that will open our eyes to the ease of paragliding tandem.
Herminio Cordido Tips and Tricks for Tandem Pilots from Ozone Paragliders on Vimeo.
The course Point to Point:
Administration, disclaimer
Presentation of every pilot and exchanging experiences
General briefing with video and educational panels
Flying with safety
Tandem flawless technique
Tips & Tricks
Making the right decision
Stress psych management
Presentation of the evolution area and landing
Weather
For bookings and any further information please contact us.
Olympic Wings
Paragliding Center & Paragliding Holidays in Greece
email: info@olympicwings.com
tel.: +30-23520-41741
Stelios mobile: +30-6942215980

Katerina member of the Olympic Wings team training with Sky Paragliders!
Paragliding equipment, viagra dosage glider service check and intermediate repair. Rescue parachute repack.
Invaluable practical experience and knowledge earned by spending five weeks in the production circle at the main Sky Paragliders glider and reserve factory unit in Frydlant, Czech Republic.
An amazing educational source of collective knowledge on the material applications, technical infrastructure and necessary cautions!
Cloths entering the facility in bulks of wrapped colored cylinders and exiting as trustworthy aerial tools in boxes ready to meet their pilots.
Laser cutting machines meet the precision required by design and cut the fabrics into numbered pieces of various geometrical shapes. Porcher Sport skytex and Domenico dokdo shiny coated "nylon" fabrics of almost all grades and shades form the top and bottom of the glider, paper-resembling white hard skytex fabric forms the ribs and diagonals fitted in the internal. Textile ribbon loops, border bands and harder Mylar parts or plastic wire spans to complete and enhance the resistance and functionality of each design.
A seamstress frustration and illumination as it all comes together…
Either in the process of sewing the glider or repairing it by replacing parts of the material that is damaged one will notice the ease with which these women dominate the gliders more than any pilot ever can. Turning a glider inside out within minutes literally to 100% PES threads, fitting pieces of material with curves and corners finally mastering the perfect dimensional shape of any glider with art.
Cutting of the suspension lines, found in many different types**, both by a cutting machine and a manual mechanical cutter or hot-iron. Stitching of each line to the points of specification, threading to the canopy with care and webbing the lines by order. Puzzling together the big ears system, the speed system and trim system with loops and patents. Performing technical control of the now complete glider, risers – lines – canopy. Measuring and adjusting the lines to meet the accurate technical data specifications.
Last step of producing a glider is the first ground inflation to combine the final practical test and visual check.
The mecca of rescue parachutes production where some of the greatest paragliding companies trust the making of their reserves.
Sewing machines beating endlessly, going through infinite square meters of red and white nylon fabric that is methodical packed into colorful bundles of safety, registered and shipped out in boxes.
A reliable service operation for used paragliders. The control staff has seen more than 20 different kinds of grasshoppers found inside gliders and smelled the sea from over 50 different beaches in Europe. The numbers are imaginary but can very well be close to the truth.
A different approach is taken while checking, tuning and reforming a used paraglider.
Porosity check, indoor inflation blowing machine, ripstop skytex sticker tape, meters of lines and eyes wide open.
An intriguing way to follow the expected and least expected faults, mishaps, natural wear and tear of gliders and equipment used for paragliding and paramotor!
Can it be fixed? Should it be replaced?
Thank you to everyone at Sky for being helpful and forthcoming despite the pressure by time, customers and dealers for their beloved paragliding goods.
A matrix of information and the constant of the human factor has unraveled itself.
** Cousin Trestec, Liros, Eldelrid, Teijin are the most common brands/producers of paragliding suspension lines.
Spectran/Dyneema white polyethylene lines, sheeted multicolor or unsheeted typically in pink color.
Technora/Twaron/Kevlar brownish aramid lines, sheeted multicolor or unsheeted typically in brown yellow colors.
Vectran white polyester lines, typically in orange color.
Sheeted lines are covered with multicolored polyester braided fibers for protection of the core.
Fun fact – this extra sheet of material carries 10% of the lines endurance.
Unsheeted lines are typically protected against abrasion by a polyurethane chemical solution.