Archive for the 'paragliding holidays' Category
Tandem paragliding is..
The Ultimate free flying experience for Everyone
20.05 – 27.05.2017 Mount Olympus Greece
Tandem Pilot workshop course
with
Herminio Cordido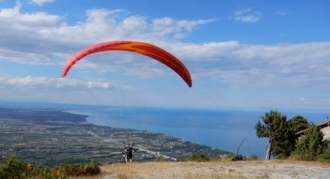 The tandem paragliding course aims to pilots already flying tandem by following this course for them to receive a thorough educational background and further cross reference to upgrade the pilots technique and practices considering the gliders, equipment, conditions and passenger.
Professional tandem pilots carry great responsibility and stress agents that can be successfully managed by locking knowledge and skills to the optimal level.
Facts -Tips & Tricks
Soft or hard spreaders? Trimming your glider before, during, after flight? What is the gliders stall-point? Lets go down?
Questions that every pilot answers independently and acts on instinctively with each flight will be examined and placed in perfect little boxes ready for you to call upon with the utmost certainty that you are doing the right thing!
Acro tandem paragliding everyday flying, simple maneuvers and those stronger will they fascinate your passenger or make his experience unpleasant?
The course will enable you to train your safety reactions and increase confidence in your equipment and your self. You will learn to control your tandem paraglider beyond your "normal" flight envelope and under conditions of maximum safety through the implementation of flight incident scenarios.
about Herminio Cordido:
Herminio Cordido, from our other side of the globe, a pilot since the age of 13 years old, member of the Venezuelan Paragliding National team for 10 years and now a solid member of the ICARO gliders Pilot team.
A born to paraglide pilot that transmits love for flying and passion to evolve!
A trusted pilot for designers, he has the experience of flying with an unlimited number of gliders through all categories not only acro, competition gliders but the newest performance tandem paragliders!
Graceful ground spiral landings with tandem, soft gentle landings and beautiful experiences for his passengers.
All the way from Guadalajara, Mexico and Canada were he professionally offers tandem flights in North Vancouver. He has flying experience in the furthest most remote areas of the planet mastering different flight conditions and terrain variables. Herminio has captured scenes and landscapes of outstanding beauty and his nature led him to cinematography one of his professional pursuits and studies.
Creator of many thrilling paragliding films like Dust Devil for Horacio Llorens and Los Rodriquez for Raul and Felix further the Never Ending Thermal of his own adventure.
Numerous entries and successes in competitions around the world challenging his own paragliding and aerobatics skills and limits.

A factory competition pilot for Ozone, winning first place at the Red Bull Uribante Acro championship in 2004, contesting in Red Bull Vertigo acro championship performing the Misty Tumble from flight one.
An extreme sportsman flying off hot-air balloons, skydiving and his personal record the self induced HALO, Herminio jumping out of his paragliding gear at 6.230 meters to skydive and meet his target.
We are exited to see him in Europe once more, at Mount Olympus in Greece flying with us and sharing his knowledge and experience with us in a refreshing simplistic way that will open our eyes to the ease of paragliding tandem.
Herminio Cordido Tips and Tricks for Tandem Pilots from Ozone Paragliders on Vimeo.
The course Point to Point:
Administration, disclaimer
Presentation of every pilot and exchanging experiences
General briefing with video and educational panels
Flying with safety
Tandem flawless technique
Tips & Tricks
Making the right decision
Stress psych management
Presentation of the evolution area and landing
Weather
For bookings and any further information please contact us.
Olympic Wings
Paragliding Center & Paragliding Holidays in Greece
email: info@olympicwings.com
tel.: +30-23520-41741
Stelios mobile: +30-6942215980

Olympic Wings offers an APPI Paramotor & Trike Complete Workshop
19.03. – 26.03.2017 at Olympus in Greece
with Alex Ledger
APPI PPG courses & validations for Paramotor Trike pilots & instructors
Paramotor Trike SIV course – Paramotor Trike XC training course
thematic paramotor & trike training courses
APPI PPG Pilot course
APPI PPG SIV course
APPI PPG XC course
APPI PPG Instructor course
pilot & instructor participants
validation into APPI ppg system
upgrade your APPI ppg qualification level
Join the APPI PPG family – here is what you get in our workshop:
fresh, modern & up-to-date paramotor and trike knowledge & experience
APPI PPG membership & license
paramotor trike paragliding insurance for European citizens worldwide
access to APPI PPG webbased knowledge and community resources
about Alex Ledger:
Alex Ledger is a well-known experienced british paramotor also paragliding pilot & instructor since 2005, currently running his own successful paragliding and paramotor school based in the UK and Italy.
Further the founder of APPI PPG 2010 & Paratrike in 2013, the International Paramotor Paratrike Associations for pilots & instructors, as the Secretary and Senior Master Instructor he runs Instructor Workshops around the world.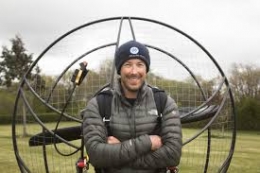 Alex is the founder and Chief Instructor of Flying for Heroes, a scheme for wounded soldiers in association with the charity Help for Heroes. In July 2014 he taught a group of wounded soldiers how to fly ParaTrikes before embarking on an expedition in Africa from
Mt Kilimanjaro to Mt Kenya. He continues to work with wounded soldiers and taught a double amputee how to fly solo before leading him on a flying expedition from the North to the South of the UK in July 2016.
In 2015 he was part of the Race Committee for the Icarus Trophy and in 2016 he led the JOGLE Paramotor Expedition from North to South UK.
He is a passionate acro paraglider pilot, climber, a B' lisence skydiver and a BASI snowboard instructor.
APPI PPG's Mission is to support the growing international Paramotor & Trike community by offering high quality training courses and internationally recognised qualifications. APPI PPG works with an increasing number of National Associations around world, providing a clear, concise and safe structure for Pilots, Tandem Pilots and Instructors to develop their paramotor trike skills.
For bookings and any further information please contact us.
Olympic Wings
Paragliding Center & Paragliding Holidays in Greece
email: info@olympicwings.com
tel.: +30-23520-41741
Stelios mobile: +30-6942215980