Archive for the 'paramotor flying' Category
Olympic Wings offers Tandem powered paragliding Trike Flights to people who want to experience flying along the Aegean Coastline with inspiring views of the clear Sea and the Olympus Mountain peaks.
Contact us for an experience of Paratrike Flying.
Olympic Wings
Paragliding Center & Paragliding Holidays in Greece
email: info@olympicwings.com
tel.: +30-23520-41741
Stelios mobile: +30-6942215980
After the spring time success of both the APPI PPG workshop and APPI PG Pro workshop – for Pilots, Professionals & Instructors – with qualifying validations, much insider knowledge and great flights shared…
We are happy to announce both workshops running again in November this year 2017, once more at Mt. Olympus and the Olympus Aegean Coast in Greece.
APPI PPG Paramotor Paratrike workshop in Powered Paragliding
will be held at the Aegean Coast of Mount Olympus by Olympic Wings during week 11.11 to 18.11.2017
Photo impressions from the APPI PPG workshop in March 2017 with Alex Ledger
APPI PG PRO workshop Paragliding Professionals
will be held at Panteleimonas Mount Olympus by Olympic Wings during days
19.11 to 28.11.2017
(arrival one day prior – departure one day after)
Photo impressions from the APPI PG Pro workshop in April 2017 with Patrick Troubet-Lacoste and Asterios Makrovasilis
For bookings and any further information please feel free to contact us.
Olympic Wings
Paragliding Center & Paragliding Holidays in Greece
email: info@olympicwings.com
tel.: +30-23520-41741
Stelios mobile: +30-6942215980
Olympic Wings offers an APPI Paramotor & Trike Complete Workshop
19.03. – 26.03.2017 at Olympus in Greece
with Alex Ledger
APPI PPG courses & validations for Paramotor Trike pilots & instructors
Paramotor Trike SIV course – Paramotor Trike XC training course
thematic paramotor & trike training courses
APPI PPG Pilot course
APPI PPG SIV course
APPI PPG XC course
APPI PPG Instructor course
pilot & instructor participants
validation into APPI ppg system
upgrade your APPI ppg qualification level
Join the APPI PPG family – here is what you get in our workshop:
fresh, modern & up-to-date paramotor and trike knowledge & experience
APPI PPG membership & license
paramotor trike paragliding insurance for European citizens worldwide
access to APPI PPG webbased knowledge and community resources
about Alex Ledger:
Alex Ledger is a well-known experienced british paramotor also paragliding pilot & instructor since 2005, currently running his own successful paragliding and paramotor school based in the UK and Italy.
Further the founder of APPI PPG 2010 & Paratrike in 2013, the International Paramotor Paratrike Associations for pilots & instructors, as the Secretary and Senior Master Instructor he runs Instructor Workshops around the world.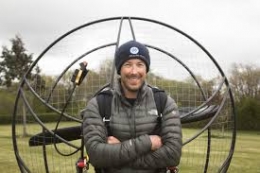 Alex is the founder and Chief Instructor of Flying for Heroes, a scheme for wounded soldiers in association with the charity Help for Heroes. In July 2014 he taught a group of wounded soldiers how to fly ParaTrikes before embarking on an expedition in Africa from
Mt Kilimanjaro to Mt Kenya. He continues to work with wounded soldiers and taught a double amputee how to fly solo before leading him on a flying expedition from the North to the South of the UK in July 2016.
In 2015 he was part of the Race Committee for the Icarus Trophy and in 2016 he led the JOGLE Paramotor Expedition from North to South UK.
He is a passionate acro paraglider pilot, climber, a B' lisence skydiver and a BASI snowboard instructor.
APPI PPG's Mission is to support the growing international Paramotor & Trike community by offering high quality training courses and internationally recognised qualifications. APPI PPG works with an increasing number of National Associations around world, providing a clear, concise and safe structure for Pilots, Tandem Pilots and Instructors to develop their paramotor trike skills.
For bookings and any further information please contact us.
Olympic Wings
Paragliding Center & Paragliding Holidays in Greece
email: info@olympicwings.com
tel.: +30-23520-41741
Stelios mobile: +30-6942215980
Katerina member of the Olympic Wings team training with Sky Paragliders!
Paragliding equipment, viagra dosage glider service check and intermediate repair. Rescue parachute repack.
Invaluable practical experience and knowledge earned by spending five weeks in the production circle at the main Sky Paragliders glider and reserve factory unit in Frydlant, Czech Republic.
An amazing educational source of collective knowledge on the material applications, technical infrastructure and necessary cautions!
Cloths entering the facility in bulks of wrapped colored cylinders and exiting as trustworthy aerial tools in boxes ready to meet their pilots.
Laser cutting machines meet the precision required by design and cut the fabrics into numbered pieces of various geometrical shapes. Porcher Sport skytex and Domenico dokdo shiny coated "nylon" fabrics of almost all grades and shades form the top and bottom of the glider, paper-resembling white hard skytex fabric forms the ribs and diagonals fitted in the internal. Textile ribbon loops, border bands and harder Mylar parts or plastic wire spans to complete and enhance the resistance and functionality of each design.
A seamstress frustration and illumination as it all comes together…
Either in the process of sewing the glider or repairing it by replacing parts of the material that is damaged one will notice the ease with which these women dominate the gliders more than any pilot ever can. Turning a glider inside out within minutes literally to 100% PES threads, fitting pieces of material with curves and corners finally mastering the perfect dimensional shape of any glider with art.
Cutting of the suspension lines, found in many different types**, both by a cutting machine and a manual mechanical cutter or hot-iron. Stitching of each line to the points of specification, threading to the canopy with care and webbing the lines by order. Puzzling together the big ears system, the speed system and trim system with loops and patents. Performing technical control of the now complete glider, risers – lines – canopy. Measuring and adjusting the lines to meet the accurate technical data specifications.
Last step of producing a glider is the first ground inflation to combine the final practical test and visual check.
The mecca of rescue parachutes production where some of the greatest paragliding companies trust the making of their reserves.
Sewing machines beating endlessly, going through infinite square meters of red and white nylon fabric that is methodical packed into colorful bundles of safety, registered and shipped out in boxes.
A reliable service operation for used paragliders. The control staff has seen more than 20 different kinds of grasshoppers found inside gliders and smelled the sea from over 50 different beaches in Europe. The numbers are imaginary but can very well be close to the truth.
A different approach is taken while checking, tuning and reforming a used paraglider.
Porosity check, indoor inflation blowing machine, ripstop skytex sticker tape, meters of lines and eyes wide open.
An intriguing way to follow the expected and least expected faults, mishaps, natural wear and tear of gliders and equipment used for paragliding and paramotor!
Can it be fixed? Should it be replaced?
Thank you to everyone at Sky for being helpful and forthcoming despite the pressure by time, customers and dealers for their beloved paragliding goods.
A matrix of information and the constant of the human factor has unraveled itself.
** Cousin Trestec, Liros, Eldelrid, Teijin are the most common brands/producers of paragliding suspension lines.
Spectran/Dyneema white polyethylene lines, sheeted multicolor or unsheeted typically in pink color.
Technora/Twaron/Kevlar brownish aramid lines, sheeted multicolor or unsheeted typically in brown yellow colors.
Vectran white polyester lines, typically in orange color.
Sheeted lines are covered with multicolored polyester braided fibers for protection of the core.
Fun fact – this extra sheet of material carries 10% of the lines endurance.
Unsheeted lines are typically protected against abrasion by a polyurethane chemical solution.