Paragliding Holidays at Mount Olympus
Olympic Wings is specialized in organizing flying holidays for paraglider pilots also their family and friends in different areas of Greece & our home Mount Olympus, that offer some of the 'Best Flying' in Europe.
Our small international team has extensive local knowledge and years of experience with guests from all over Europe and the world. You will mostly enjoy flying with us in these beautiful areas as we provide a high level standard of safety, organization and service.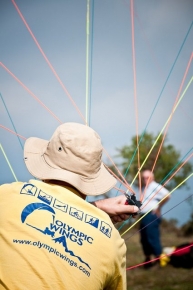 Flying with us
Flying with us doesn't only mean that we organize your flying holiday services. It means that on a daily basis we are with you, we do briefings on the days flying sites and weather & flights conditions.
Stelios, the founder of Olympic Wings is a fully qualified FAI instructor, former competition pilot and is widely known for his exceptional knowledge of local climatic and flying conditions. We also help you to improve your flying techniques and do equipment checks before flying. It is or philosophy to ensure that your flying holiday or paragliding course will be a full success.
The other important factor we truly believe in is that safety comes first.
We want you to FLY HIGH – FLY SAFE and always LAND GENTLY !

Flying Sites at Mt. Olympus
Our flying area covers the three mountains of Pieria in the north, Olympus and Ossa / Kissavos in the south – forming a long range just along the coastline of the Aegean Sea and separated by impressive valleys. Olympus with its highest peak Mytikas – 2.918 m – is the highest mountain range in Greece and the famous seat of the Greek Gods.
This region divides naturally into two very distinctively different landscapes: The gentle and green northern slopes next to the sea and the dry and arid southern region towards the flatland.
If you are an experienced pilot the south will offer you fantastic cross-country and thermalling opportunities. Less experienced pilots will enjoy dynamic soaring on the northern slopes. There the mild conditions are ideal for your first experience with thermal flights.
Whatever your experience level is, we will match it with our flying sites and local weather conditions to ensure enjoyful and safe flying. We carefully chose 8 different sites covering 15 take-offs for all wind directions. This ensures that on a daily basis we can match wind directions and flying conditions with a suitable flying site.
Some of the main flying sites at Mount Olympus, our aerial playfield, are: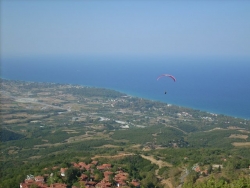 Profitis Ilias – Little Church – Panteleimonas:
easy take-off with beautiful scenery towards Mount Olympus, the castle and the coast
flying towards the sea with beach landing possibilities
N / 590 m
Litohoro – Olympus main mountain – northern side:
view of the highest peaks, Enipeas Gorge and the Aegean Sea
great for technical flying, thermalling and cross country
Stavros: N / 950 m
Litohoro: E / 550 m
Kalivia – Olympus main mountain – southern side:
world cup competition site – three different take-offs
good thermal conditions and cross-country possibilities towards the flatland, triangles or back to the sea
Kalivia: W / S / E / 1250 m
Skicenter KEOAH: W / S / 1500 m
Kriovrissi: W / N / 950 m
Kalipefki – Lower Olympus:
highplateau surrounded by mountains
ideal for thermalling and cross-country practice
Kokkoraki: S / 1300 m
Gkoudamani: E / 12oo m
Gonni – Lower Olympus:
impressive views towards Pinios River, the Valley of Tembi and Kissavos mountain
strong thermal conditions with great cross-country possibilities over the plains of Thessaly, the largest flatland in Greece
S / 1100 m
Makrihori – Flatland of Larissa:
little mountain between Olympus and Kissavos
strong thermals, best startpoint for long cross-country flights over the flatland
E / S / 700 m
Sikourio – Kissavos mountain:
easy top landings, great thermalling and cross-country
W / 950 m
View Olympic Wings Paragliding Flying Sites Mount Olympus in a larger map