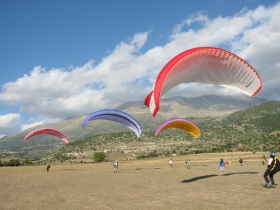 Olympic Wings
is a paragliding school officially associated to the Greek Paragliding Federation EL.A.O.
The Greek Federation in turn is associated to the international FAI.
This means if you want to learn paragliding with us or do a specialty course your lessons will count towards your national licence.
We offer the following courses:
Olympic Wings is affiliated to APPI and offers paragliding courses which follow the APPI education system.
Beginner Lessons
By the end of the course you will have had lessons counting towards your international club pilot or pilot licence in: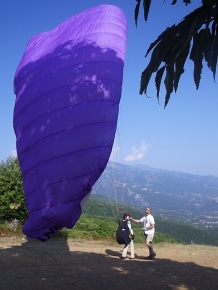 Theory lessons in
Equipment
Preparation for flying
Aerodynamics
Meteorology and micro meteorology
Dangerous situations
Practical lessons in
How to prepare the glider
Equipment and weather check
Ground control
Take-off
Flying
Controlled landings
Different approaches to landings
Flights with and without turns
Steering and breaking the glider
Performance Course
In this course you will learn the following:
Big-Ears
B-Stall
Spiral Dive
Wing Overs
Backward launch
Strong wind take-off and landing techniques
Thermalling & XC

Theory about
What are thermals
How they create and how to find them
How to fly safe in thermals
How to use thermals for X-Country
Practice about
Guided thermal flying and X-Country flying
Thermalling and X-Country techniques
Safety manouvers
Tandem Paragliding
Tandem Beginner course:
Tandem take-off with passenger
Tandem landing with passenger
Tandem flying techniques with passenger
Tandem Advance course:
Big-Ears with passenger
B-Stall with passenger
Spiral Dive with passenger
Wing Overs with passenger
Backward launch with passenger
Strong wind take-off and landing techniques with passenger