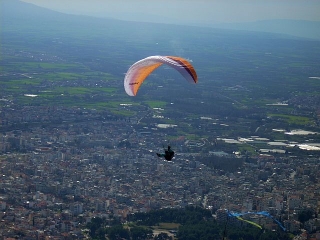 This winter we have had already some great flights,
health
a lot of sunny days with snowy mountain scenery.
End of February we visited our friends in Drama, a lively city in northern Greece. The local airclub invited its pilots and friends to the traditional party for a good start into the New Year. This of course is the opportunity for a superb flying day directly on top of the city of Drama.
Almost 30 pilots from Drama, Thessaloniki, Mount Olympus and even Bulgaria enjoyed the smooth thermic conditions, allowing top-landings, long flights with good hights over the take-off and safe landings next to the grill.?