Olympic Wings exclusively offers a DHV Seminar
16.03. to 18.03.2018 Mount Olympus, Greece
for paragliding instructors, tandem pilots & pilots
in forms of an elaborate workshop with the German paragliding federation instructors 
Robin Frieß — DHV CEO
Peter Cröniger — DHV Education board
Simon Winkler — DHV Safety Technics Specialist

 
Theory & Practice
During the 3 workshop days of the seminar the participants will train and educate themselves in matters of flying techniques, teaching methods, professional conduct and paragliding evolution.
Paragliding instructors, tandem pilot & pilots workshop participants will gain up-to-date technical knowledge and DHV methodology in order to built up their skills and abilities.
About DHV and the seminar initiators:

DHV — Deutsche Hängegleiterverband e.V.  the official Paragliding and Hanggliding Federation in Germany.
This federation is one of the largest worldwide bringing together and organizing the flying activity for 39.000 pilots and 320 regional associations in Paragliding and Hanggliding.
Throughout the years DHV has deligated knowledgable people and rensposible departments in the various sections and aspects concerning the Sport & the Free Flying Activity.
Departments that research, organize, evaluate and regulate flying equipment, education, training and licensing as much as airspace, flying sites, competitions, clubs and schools under an official conformity in Germany with one golden task objective that of maximum safety.
The federation self portraits » The DHV stands as a pilot association for joy in hanggliding and paragliding and for the freedom of this flying sport, in openness and responsibility towards man and nature.»

This year 2018 in Greece we will have a very special opportunity to meet with appointed members of the federation, paragliding instructors and experienced pilots themselves who have joined the DHV efforts to regulate aspects of the activity and make it safer for free flyers.
They will share their knowledge and practical experience in theory and practise as it works for the DHV federation pilots and mostly significant for DHV Tandem Pilots and DHV Paragliding Instructors.
Olympic Wings is happy to welcome:
Robin Frieß, DHV managing director CEO
Since 1.3.2017, Robin Frieß has been selected between 42 very capable, high-caliber candidates as the Managing Director CEO of the DHV German Paragliding and Hangliding Federation.
He has university studies in business and further has cooperated with the DHV instructors team.
A pilot since 2001, a paragliding instructor and the previous owner of Chiemsee Flugschule a highly respected paragliding school in Germany.
The organizer of the 2015 Red Bull  X ALPS  WARM UP competition in Aschau.
Robin Frieß aus Rosenheim wird ab 1. März 2017 die Geschäftsführung des DHV übernehmen. In einem intensiven Auswahlverfahren hat die DHV Vorstandschaft zusammen mit der Unternehmensberatung E. Sing & Partner unter den 42 hochkarätigen Bewerbern einstimmig den bisherigen Inhaber der Flugschule Chiemsee ausgewählt. Robin Frieß ist kraft seiner Persönlichkeit, aufgrund seines Studiums der Betriebswirtschaft und seiner langjährigen Erfahrung als Fluglehrer und Mitglied des DHV Lehrteams eine ideale Besetzung. Die DHV Vorstandschaft entschied gleichzeitig, Björn Klaassen zum stellvertretenden Geschäftsführer zu ernennen und mit der Wahrnehmung behördlicher Aufgaben zu betrauen. Diese zusätzliche Verantwortung wird Björn Klaassen neben der Leitung des Referats Flugbetrieb/Gelände/Luftraum wahrnehmen. Klaus Tänzler, der seit 1996 die Geschäftsstelle leitet, wird zum 1. März 2017 in den verdienten Ruhestand treten.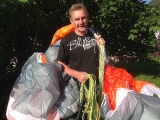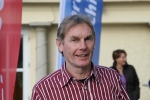 Peter Cröniger, DHV Education Board
Born in 1955, a Lufthansa-Pilot by profession.
Flying instructor and examiner in Hanggliding and Paragliding.
Member of the DHV federation team of education.
Fluglehrer und Prüfer für Drachen- und Gleitschirmfliegen, DHV-Lehrteam
Simon Winkler, DHV practical paragliding instructor's instructor and technical examiner
Born in 1991, a paragliding and safety instructor by profession since 2009.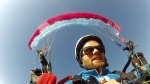 The DHV practical paragliding instructor's instructor and technical examiner since 2013. Test pilot for the safety class nomination by DHV. Pilot in the flight safety video series released by DHV.
Since 2015 he has initiated 10-14 SIV safety courses each year for many paragliding schools.
Competition pilot in the Acrobatics Worldcup since 2010, celebrating a place in the first 10 the past years 2015 and 2016.
A cross country, speed flying, acro and hike&fly pilot that was intruduced to the sport by his father at the age of 14 yo.
Ich bin 1991 in der Oberpfalz und somit im Flachland von Deutschland geboren. Durch meinen Vater, welcher begeisterter Drachen- und mittlerweile auch Gleitschirmflieger ist, bin ich bereits mit der leichten Fliegerei aufgewachsen. Dabei begann alles mit Modellsegelfliegen und Groundhandling mit dem Gleitschirm. Seit 2005 fliege ich Gleitschirm (Hang und Winde) und genieße jede einzelne Facette dieses tollen Luftsports. Nach meinem Abitur zog ich nach Österreich und begann dort ab 2009 als Fluglehrer zu arbeiten. Neben meinem Tourismusstudium in Innsbruck, welches ich 2015 abschloss, arbeitete ich für mehrere Flugschulen als Sicherheitstrainer. Bis heute leite ich etwa 10-14 Sicherheitstrainings pro Jahr. Seit 2013 arbeite ich fest beim DHV als praktischer Fluglehrerausbilder und technischer Prüfer. 
Nebenbei trete ich seit 2010 im Gleitschirm Akrobatik Weltcup an und konnte dort 2015 und 2016 meine besten Wettkampfsaisonen mit einer Top 10 Platzierung im Gesamtergebnis feiern. Des Weiteren fliege ich begeistert Strecke, Speedflyer und im Herbst gehe ich gerne auf eine gemütliche Hike & Fly Tour. Wenn es mal nicht zum Fliegen geht, verbringe ich am liebsten meine Zeit auf den Skiern oder im Sommer auf meinem Moutainbike.
Organization:
Olympic Wings organizes this DHV seminar at Mount Olympus and offers selected accommodation for the pilots and professionals taking part at the seminar.  
The pilots accommodation is located in the area close to the flying site with short drives to the take-off.  Further in the same hall location for the theoretical discussions.
You can book the DHV seminar together with your accommodation and transfers directly through Olympic Wings.  
For bookings and any further information please contact us.  
Olympic Wings
Paragliding Center & Paragliding Holidays in Greece
email: info@olympicwings.com  
tel.: +30-23520-41741  
Stelios mobile: +30-6942215980