Two very special FLYING SAFARIS in 2018.. check them out
* In & Out West Greece * Top & around North Greece *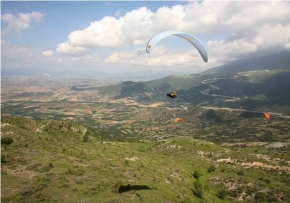 Olympic Wings offers organized Flying Safaris for low-airtime and advanced paragliding pilots in some of the most fascinating flying areas in Northern, Western and Southern Greece.
Our Flying Safaris combine two or three regions of Greece, depending on the duration of your holiday. You will change accommodation during your stay so our base is always locally and close to the flying sites. Accordingly to the daily weather conditions we will choose the best site nearby for flying.
For groups of pilots, paragliding clubs and schools we arrange the itinerary and type of accommodation accordingly to your wishes and preferences.
We recommend a duration from 8 days on, of course you can enjoy a relaxing stay at the beach in the last days. The best time of the year for a Flying Safari is spring and autumn, just ask us for your preferred date and area.
We offer a complete paragliding package with different services, read more about it here: :::> Services
Some of the sites of our Flying Safaris are:
Лётные места на Севере Греции
Kissavos / Ossa & Pieria — Servia & Risomata

Drama – Woldcup PWC 2010 – гора Falakro

Edessa – греческие Чемпионаты – гора Kaimaktsalan

Deskati
Лётные места на Западе Греции – гора Pindos
Гора Pindos: Mitsikeli, Konitsa, Paramythia – очень хорошие термические потоки и лётные области по пересеченной местности

Остров Lefkada – прибрежное повышение

Arta, Dodoni, Hanopoulos, Parga
Лётные места в Центральной Греции – гора Parnassos
Delphi – полет над древним оракулом

Amfiklia – хорошая область с термическими потоками, Itea, Galaxidi – полёт над морем с приземлением на берегу

Гора Parnassos с взлетом на высоте 2.000 м.

полет по пересеченной местности от Mouzaki до скал Монастырей Meteora, именно здесь в недавнем прошлом были совершены самые протяжённые полёты в Греции — от Mouzaki до Ellinopirgos
Лётные места на Юге Греции – Peloponnese & Athens
Патры – Omblos, Kalentsi, Santomeri – очень хорошие термические потоки и лётные области по пересеченной местности

Mesolongi, Aitoliko, Varasova– полет на Коринфский залив

Agrinion – Embessos (до PWC 2011)

Epidaurus, Didimos

Argolida

Kitheronas — Platees
View Olympic Wings Paragliding Holidays in Greece in a larger map