Suspension Lines of the Glider
Cousin Trestec, Liros, Eldelrid and Teijin are the most common brands — producers of paragliding suspension lines.
Spectra / Dyneema — white polyethylene lines, sheeted multicolor or unsheeted typically in pink color.

Technora / Twaron / Kevlar — brownish aramid lines, sheeted multicolor or unsheeted typically in brown yellow colors.

Vectran — yellow polyester lines, similar properties to aramid, typically in yellow and orange color.

Tergal / Dacron — polyster lines and risers.

Nylon — polyamid lines are used for reserve parachute lines typically in white color.
Sheeted lines are covered with multicolored polyester braided fibers for protection of the core.
Fun fact – this extra sheet of material carries 10% of the line's weight endurance.
Unsheeted lines are typically colored and protected against abrasion by a polyurethane chemical solution.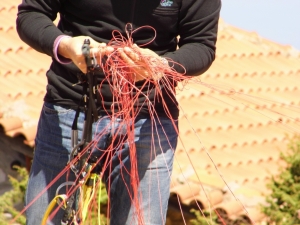 Properties in a nutshell… Dyneema VS Kevlar
Dyneema lines are lighter in weight, higher abrasion and UV resistance lines however Kevlar lines are more heat resistant and dimensionally stable.
Nylon polyamid and Tergal polyester lines are elastic, further have a good heat, abrasion and UV resistance.
The Canopy of the Glider
Porcher Marine Sport — skytex — & Domenico — dokdo — are the two most common, specially coated "nylon", fabrics of almost all grades and basic colors that form the top and bottom of the glider.
Paper-resembling white hard skytex fabric forms the ribs and diagonals fitted in the internal.
Textile ribbon loops, border bands and harder Mylar parts or plastic wire spans to complete and enhance the resistance and practical functionality of each design.