from Para-Test & Airturquoise
23. – 28.04.2016 in Greece.
SIV instructor workshop & SIV pilot training course
SHV course certification
Come & join our Flying Safari South Greece to fly with us in the best areas of Peloponese & Delphi directly after the SIV workshop with Alain Zoller – just enjoy and fly!
SIV instructor workshop
23.04. – 25.04.2016
The SIV instructor workshop aimes for paragliding instructors to learn how to instruct SIV.
This workshop will teach you the professional techniques and method, you will improve your abilities to instruct your students with SIV.
SIV pilot training course
27.04. – 28.04.2016
Obtaining the paragliding pilot license which means finalizing the education is not enough to understand the physics behind the equipment control, how the different air mass can influence your flight. Flying in thermal or dynamic conditions can sometimes lead to situations which a pilot may not be prepared on.
This SIV, Simulation d'Incidents de Vol, safety course will enable you to train your safety reactions and increase confidence in your equipment and your self. You will learn to control your paraglider beyond your "normal" flight envelope and under conditions of maximum safety through the examination and simulation of flight incident scenarios.
about Alain Zoller: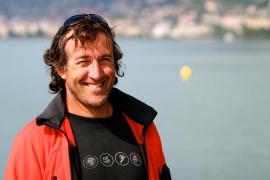 Alain Zoller is a Swiss paragliding pioneer pilot in the field of testing and certification of paragliders and aerial sports equipment, testing gliders since 1989 (AFNOR LTF/DHV).
In 1997, he founded Air Turquoise test and certification center for paragliders, harnesses, parachutes further LBA approved that took part in the EN standards development. Testing over 300 gliders according to EN standard in all categories (A, B, C and D) worldwide and for Germany after LTF.
Paragliding pilot since 1985
Professional tandem paragliding pilot since 1988
Delta pilot since 1990
Driver rigid wings in 1996
Skydiver, 2007
Organizing sports events related to paragliding including:
Organizing Committee for the Red Bull Vertigo 1997 & 1998.
The Mad Masters in Vars Yoz FR in 1999.
President of the Organizing Committee of the Red Bull Vertigo 2000-2007.
Chairman of the organizing committee of the first aerobatic championships FAI world Villeneuve, 2006.
President of the Association of Flight Bol Air, Gliding club established in 2011 under the guidance of professionals in the region Free Flight RIVIERA – CHABLAIS.
Expert in the field of security and emergency parachutes (expert trainer approved by SHV).
General information
Briefing the day before the SIV course is REQUIRED, for organizational reasons, security and education, it is required to be present at the general briefing.
Administration, disclaimer
Presentation of every pilot and exchanging experiences
General briefing with video and educational panels
Check the operation of the extraction parachute
Distribution of life-jackets, radio, headsets and waterproof pockets for radios
Presentation of the evolution area and landing
Weather
For bookings and any further information please contact us.
Olympic Wings
Paragliding Center & Paragliding Holidays in Greece
email: info@olympicwings.com
tel.: +30-23520-41741
Stelios mobile: +30-6942215980